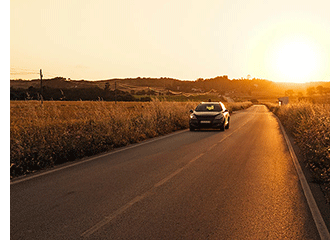 Portugal is a great place to visit, and we're not the only ones who think so. In 2013, there were over 14 million* people who visited our beautiful country. Our temperate climate attracts visitors year round to visit our fine beaches, beautiful churches and monasteries, awe-inspiring historic sites, and vibrant city nightlife. One of the best ways to see our hospitable country is to hire a car for the duration of your visit. This allows you to be on your own timetable and not be held to the schedules of public transportation. If you're trying to avoid the crowds in Lisbon, you'll likely fly into Faro Airport, located in the Algarve region of Southern Portugal, and you'll need to know of good places to hire a car in Algarve. But what makes a good car hire company? There are several things you should look for, and we've listed 6 of them below.
Affordable Prices
You'll want to find a company with affordable prices, but you should be careful when comparing prices between car hire companies. Don't just pick the company with the lowest listed rates—look for hidden fees. Many companies charge you a reservation deposit then charge you to upgrade, for airport service, and even for an additional driver or a child seat. You'll also want to ask if you have a limited number of kilometers or miles you can drive without being charged extra and if a Collision Damage Waiver (CDW) is included in the pricing. Truly cheap car hire in Algarve should not have any of these additional fees tacked onto your cost.
Good Service
Fast, friendly service is another thing to look for when deciding between places to hire a car in Algarve. Look for a company that has incentives for returning customers. This is a good indication that they have repeat customers who trust them.
Easy Booking
Booking your rental should not be a difficult task. Find a company with easy, online booking and the ability to call and speak with someone at the company directly. You're looking for cheap car hire in Algarve, not trying to add difficulty to planning your trip.
Convenient Vehicle Pickup
There's nothing more frustrating after a long flight than having to stand in queues or take a transport bus in order to be able to pick up your vehicle. A good car hire company offers the availability to collect your car at the airport or even have it delivered to your hotel if that is more convenient. There is no reason for the beginning of your vacation to revolve around the location of your chosen car hire company.
Insurance
Every good car hire company offers insurance policies. The policies are designed to cover you in case there is an accident. Choosing to have insurance on your rented car means that you are protected no matter what troubles may arise. The insurance should also cover any damage that may happen to the vehicle.
Good Vehicle Variety and Condition
You don't want to be stuck with somebody else's idea of a good vehicle. Look for a wide range of quality, good-condition vehicles. A car hire company that has a good selection of vehicles is set up to help you get the type of car you want, not just the limited types of cars they carry. Additionally, when the company's vehicles are in good working order, you don't have to worry about being charged for damage that the car already had when you received it.

Paste the Code Below to Embed this Image on Your Site
Car Hire Portugal by NetmarkContent on GoAnimate