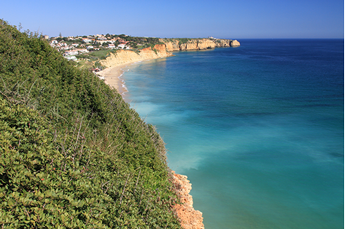 The Algarve is the southernmost region of mainland Portugal, covering almost 5,000 square kilometers (almost 2,000 square miles). At the heart of this beautiful region is its capital, Faro. If you're planning on visiting the Algarve, you're likely to fly into Faro International Airport. Once you've arrived in this rich, cultural land, there are several ways to get around in Portugal, including using car hire companies at Faro Airport.
 If you want to spend your vacation on your own timetable, we'd suggest hiring a car for getting around the Algarve. After you've arrived and decided on a mode of transportation, it's time to get serious about relaxing. While you can drive from Faro in southern Portugal to Bragança in northern Portugal in about six and a half hours, there is plenty to do without leaving the Algarve region. There are many attractions in Faro itself, but today we've put together a list of a few things you can do when you leave the city behind.
Visit the Beach
Northwest of Faro, not very far from the airport, is a little offshore island connected to the mainland by a bridge; this is the Praia de Faro (Faro Beach). It is also sometimes called Faro-Mar or Ilha de Faro. Being an island, this beach offers both a lagoon side and a seafaring side. The lagoon side has colorful boats on the water or moored along the slipways. It is a popular location for swimmers and jet skiers alike. On the seafaring side of the island is a glorious stretch of golden sand. The Praia de Faro offers many watersports including windsurfing and sailing.
Hop up to Estói
Just 12 kilometers (7.5 miles) north of Faro, you'll find Estói, a town typical of the Algarve hinterland. Here you'll find the Palácio de Estói, a palace that dates back to the late 18th century. While visitors are not allowed inside the palace, there are beautiful, multi-level gardens lavishly decorated with azulejos (Moorish tile mosaics) and busts. There is a grotto located in the lower part of the gardens that is completely covered in mosaics and can be accessed by going down a set of tile steps.
Travel to Historic Silves
Silves is a little country town about 65 kilometers (40 miles) from Faro situated on the Rio Arade and surrounded by cork oak forests. It was once the Moorish city of Xelb, capital of the Al-Gharb. Formerly an intellectual and cultural center to rival Granada, Silves is now a small, charming, old world town with some historically significant buildings. You can visit the Castelo dos Mouros, a massive Moorish castle that rears above the town; the Gothic Cathedral; or Sé, containing the tombs of crusaders. There is also the Archeological Museum in the Rua das Portes de Loulé with exhibits from Silves and the surrounding area.
Go a bit farther to Ponta de Piedade
Another 40 kilometers (25 miles) or so farther down the coast, you'll find the Ponta de Piedade near Lagos. This is a stunningly beautiful section of coastline with an awe-inspiring collection of natural wonders and a lighthouse perched majestically atop the cliffs. Caves, grottoes and sea arches are among the natural sculptures you'll find carved from the cliffs below over thousands of years.There are many boat trips that will take you into grottoes, around stone pillars and through natural tunnels. The vast variety of natural wonders coupled with clear water and the warm Algarve sunshine creates a truly magical effect.
No matter what you decide to do while in the Algarve, make sure you enjoy yourself. There's something for everyone. See the sites, try the food, or just relax on the beaches.

Paste the Code Below to Embed this Image on Your Site
Sources: