Portugal's fine beaches, year-round temperate climate, wonderful food, and friendly people combine to attract many people to our beautiful country. If you're thinking of visiting our fair country, you'll want to take two things into consideration: when the best time for your trip is and how you're going to get around. If you're not sure when you'd like to visit, you should check out our Seasonal Vacation Ideas in Portugal. However, if you've already decided when you're going to visit, it's time to decide how you're going to see the sights. We've put together a list of six ways to travel within Portugal.
By Car
If you really want to see the country, but you don't want to be restricted by a timetable, choosing to hire a car is a great way to see Portugal. This option gives you the best combination of freedom, versatility and traveling ease. You can also take advantage of the unlimited milage generally offered within Portugal to really see the scenic countryside that is off the beaten path.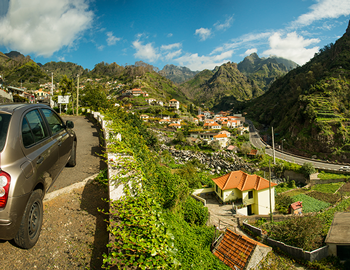 This is also a relatively inexpensive way to see the country, because it's pretty easy to find cheap car hire in Portugal. You can read about 6 qualities of a good car hire company here on our blog. Continental driving rules apply, meaning that cars travel on the right side of the road, and road signs comply with international rules. Check out our infographic about what car to hire in Portugal.
By Taxi
Travelling by taxi in Portugal isn't terribly expensive, especially when compared with European standards. A trip across Lisbon or Porto generally costs around €8-13. As with any taxi service, there are often additional charges for luggage, weekend travel and nighttime travel. Even with relatively low prices, it can still add up fast, especially if you're traveling longer distances. You should be aware that if you're going to travel throughout the country via bus, train or plane, you'll probably be using taxis as well, because many railway and bus stations are located far from town centres. In rural areas, there may be no other way to get to your next destination.
By Bus
Bus travel is a cheap way of getting around Portugal. There is a network of buses linking most major towns and cities along with a pretty good network of local lines. Be careful though; there is a wide array of private companies running the bus systems, so it can get confusing. The fares tend to give a pretty good value if you don't mind structuring your visit around their timetables. Also, you should be aware that many of the local services are reduced or suspended on weekends.
By Train
While there are some very picturesque lines in the north, the Portuguese railway system is underdeveloped, especially compared to some of the more industrialized countries of western Europe. Trains can be a good way to travel between cities and towns if you don't mind following their timetable. There are strong railway connections between the capital and many major towns, but you'll still need to use local buses or taxis to travel within the cities or towns you visit.
By Plane
If you're planning to spend the majority of your time in our bigger cities like Lisbon, Faro in the Algarve, and Porto in the north, you may choose to use air travel to travel between the cities. However, remember that you'll still need to hire a car or use the bus or taxi services in order to get around the cities.
By Bike
Despite the hilly terrain, cycling is becoming increasingly popular for traveling within Portugal. You can often hire a bike for €10-20 per day, making them a fun and inexpensive way to see nearby sights. If you don't plan on bringing your own bike, however, it can add up pretty quickly. This is especially true if you're trying to see a lot of the countryside.
We hope this helps you decide the best method for your travel while visiting Portugal. Whether you're coming for the historic sites, the beaches, the old churches and monasteries or any other reason, we think you'll find our country very much to your liking.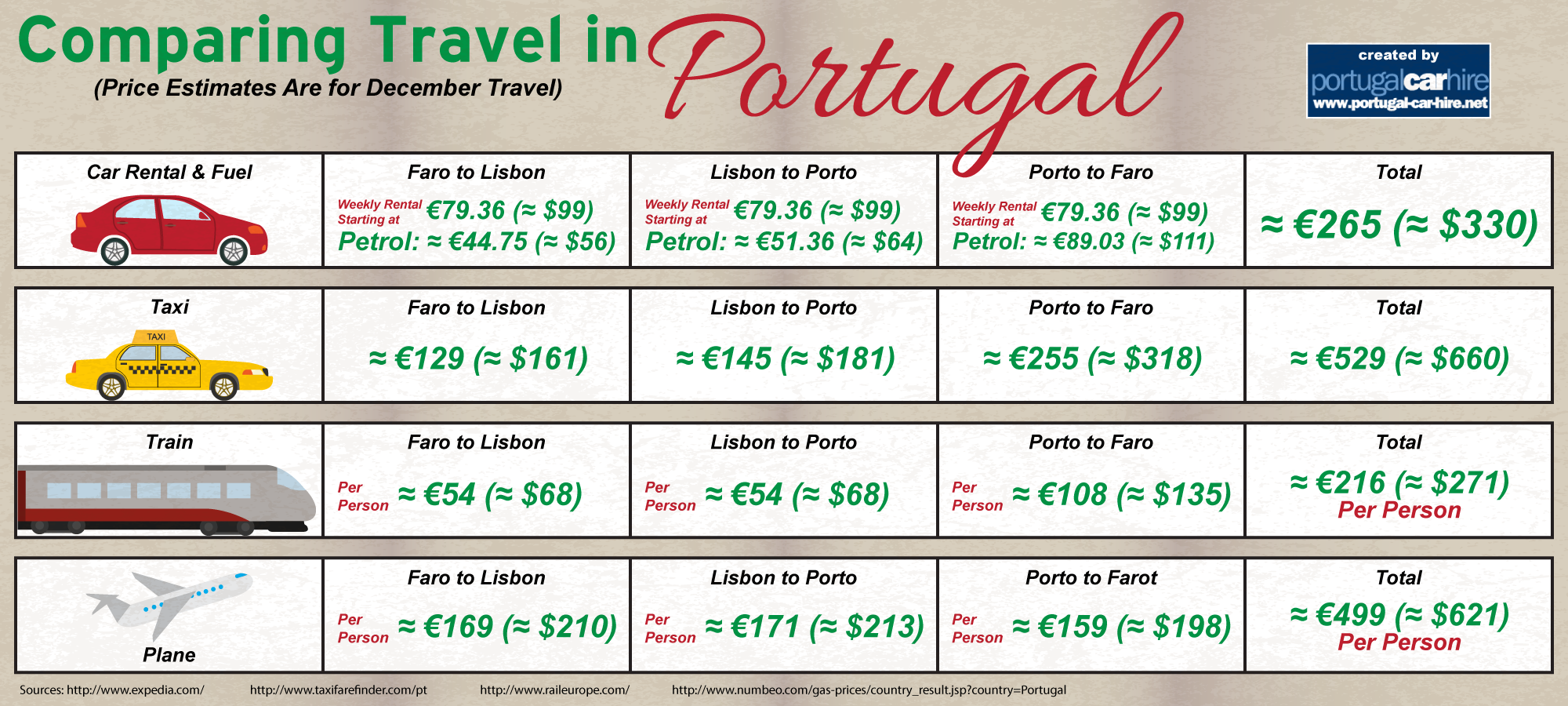 Paste the Code Below to Embed this Image on Your Site
---
Sources: